The play «In Touch» is the first large-scale project of social theatrical art in Russia. Its creation was made possible through the cooperation of the Deafblind Support Fund «Connection» and the Theater of Nations.
The play «In Touch» is a project of socio-cultural integration and rehabilitation of people with hearing and visual impairment. It unites deaf and blind and hearing people in the cultural and city spaces.
The idea of creating the play came from an actor and artistic director of the Theater of Nations Yevgeny Mironov.
The first version of the play «In Touch» was created in Moscow as part of the Territory International Festival-School of Modern Art on the stage of the State Theater of Nations. The premiere was successfully held on April 19, 2015.
The performance was shown more than 30 times; prominent Russian actors Evgeny Mironov, Ingeborga Dapkunayte, Anatoly Beliy, Evgeny Tsyganov and others played in it. The performance was nominated for prestigious Russian awards, including the Golden Mask Russian Theater Award.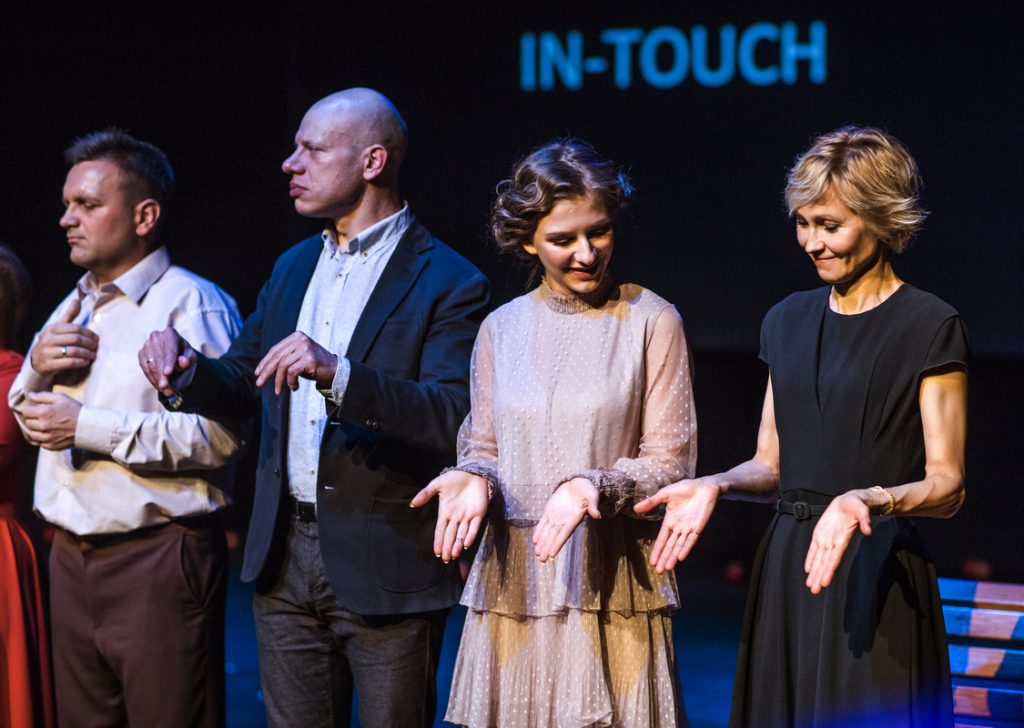 October 14, 2017 the premiere of the international version of the play «In Touch» took place in the National Theater of the Great Britain.
As a co-director for the creation of an international version of the performance, Jenny Siley, an artistic director of the theater company Graeae, was invited. Five Russian, two British and one French deaf-blind actor played in the performance along with famous actors in Russia and the Great Britain.
Artists Rustam Akhmadeev, Kirill Byrkin, Alexei Gorelov, Roman Evdokimov, Alena Kapustyan, Olga Lapshina, Sophia Lebedeva, Vera Lyzyzhenkova, Irina Povolotskaya, Jonathan Salvay, Ekaterina Sakhno, Alexander Silyanov, Julia Khamitova.
Idea: Mironov Evgeny
Director: Malikov Ruslan / Jenny Siley
Choreographer: Rudik Alexandra
Playwright: Krapivina Marina
Production Designer and Costumes: Ekaterina Dzhagarova
Composers: Myasoedov Mikhail, Pashinskaya Anna
Assistant Director: Nikitina Larisa
Producer of the international version: Avdeeva Victoria
Technical Director: Dmitry Lyashkov
Light artists: Anton Astakhov, Nataliya Lapteva
Sound producer: Shklyaev Andrey
Sign Language Interpreter: Pavel Mazaev